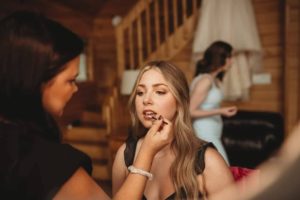 Thank you for taking time out of your day to check out my work. My mission is to not only apply makeup, but to also let your natural beauty shine – I bring out the features that are uniquely beautiful; yours and yours only. Not only will you walk away looking amazing, you will also feel confident and special. Because that's what you are. I want you to see the beauty that is already there.
So, some of you may be wondering about the meaning behind the name of this business, The Beautiful Beat. The term, "beat" has been around for decades, predominantly in the drag scene which has gained popularity in the beauty community. It basically means that you have meticulously applied makeup from every angle – and often the term is used in a complimentary way or even in a descriptive way. For example, "Your face is beat!" or, "I'm going to give you a full beat". I am also a trained musician (I have a Bachelor of Music), so the title manifested itself pretty quickly! Being a classically-trained musician, I am a perfectionist, I am artistic, disciplined, and above all else, a professional.

So how did I switch gears from musician to a makeup artist?
It was a long, winding road to get here, but I am here. I have always loved makeup – I became passionate about stage makeup years ago, often being asked to come up with makeup looks for other performers, and applying it on them as well. I was always asked to do others' makeup for special events, or even just for fun! I loved it. So much so, I thought it as being a mere hobby – it was too fun to be a career! Fast forward years later, I came to the realization that this was my passion and something that I could actually pursue as a career and well – long story short – here I am!